services: cotillion
Give your child the advantage of polite manners, self-confidence, and social dance skills. Our philosophy is that children have a better ability to learn and retain lessons if they are presented in a fun, engaging manner. Students learn through demonstration, skits, role play, and hands-on table manners.
  cotillion
MANNERS  FOR 3RD to 8TH GRADES: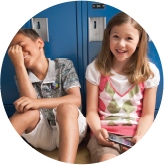 Social Etiquette, Club Etiquette and Table Manners.
SOCIAL DANCE:
Waltz, Foxtrot, Salsa, Cha-cha, Meringue, Rumba, Swing, 60's, 70's and 80's Dances.
Enrollment is based on a first come first served basis. Acceptance is limited in order to maintain proper balance in each class.
  dress code
Ladies
CONSERVATIVE DRESSES OR SKIRT AND BLOUSE: No strapless dresses unless worn with a cover such as a sweater. No dresses or skirts more than three inches above the knee.
SHOES: No slides or heels over 2 inches.
Gentlemen
TIE: Regular or bow tie. There are some fun ties out there!
SHOES: Polished black or brown leather shoes and dress socks (No white socks).
  theme nights
There is no need to buy a costume or special clothes. Have fun in your own closet or your parents!
TROPICAL NIGHT
LADIES
Floral skirt, dress or blouse, guayabera dress, bright colors or clothing from a Latin American or Caribbean country.
GENTLEMEN
Bright colored shirt with a collar, Hawaiian shirt, a guayabera and pants (no jeans) or clothing from a Latin or Caribbean country.
DECADE NIGHT
1950's
Poodle skirts, ponytails, rolled up jeans, capris pants, long button-down shirts, bobbie socks, and scarves. Elvis, jeans, a white t-shirt with sleeves rolled up and slicked back hair, leather or denim jacket, letterman's sweater, white socks, and loafers. Think "Revenge of the Nerds" high waisted flood pants, pocket protector, glasses with white tape.
1960's
Big hair, big plastic jewelry, beehives, blue frost eyeshadow, mini dresses, mini skirts, jumpsuits, go-go boots, fishnet stockings. Austin Powers, The Beatles, polyester, polyester, polyester pants, shirts, wide collars, turtlenecks, beatnik beret.
1970's
Think peace, love, Woodstock, hippies, tie-dyed t-shirts, jeans, bellbottoms, platform shoes, wide-rimmed hats, polyester, polyester, polyester. "Napoleon Dynamite." Preppy Clothes. Disco lives!!! Wrap dresses, shiny shirts, and white suits. John Travolta.
1980's
Disco lives on! Think Madonna, Dynasty, Miami Vice, bracelets, lace gloves t-shirt off the shoulder, big hair, tall bangs, "poodle perms." Big shoulder pads, big earrings. Pastel colored t-shirts under a white blazer, studded leather bracelets, safety pin accessories punk rock hair…any color. Wide shoulders for men and women.